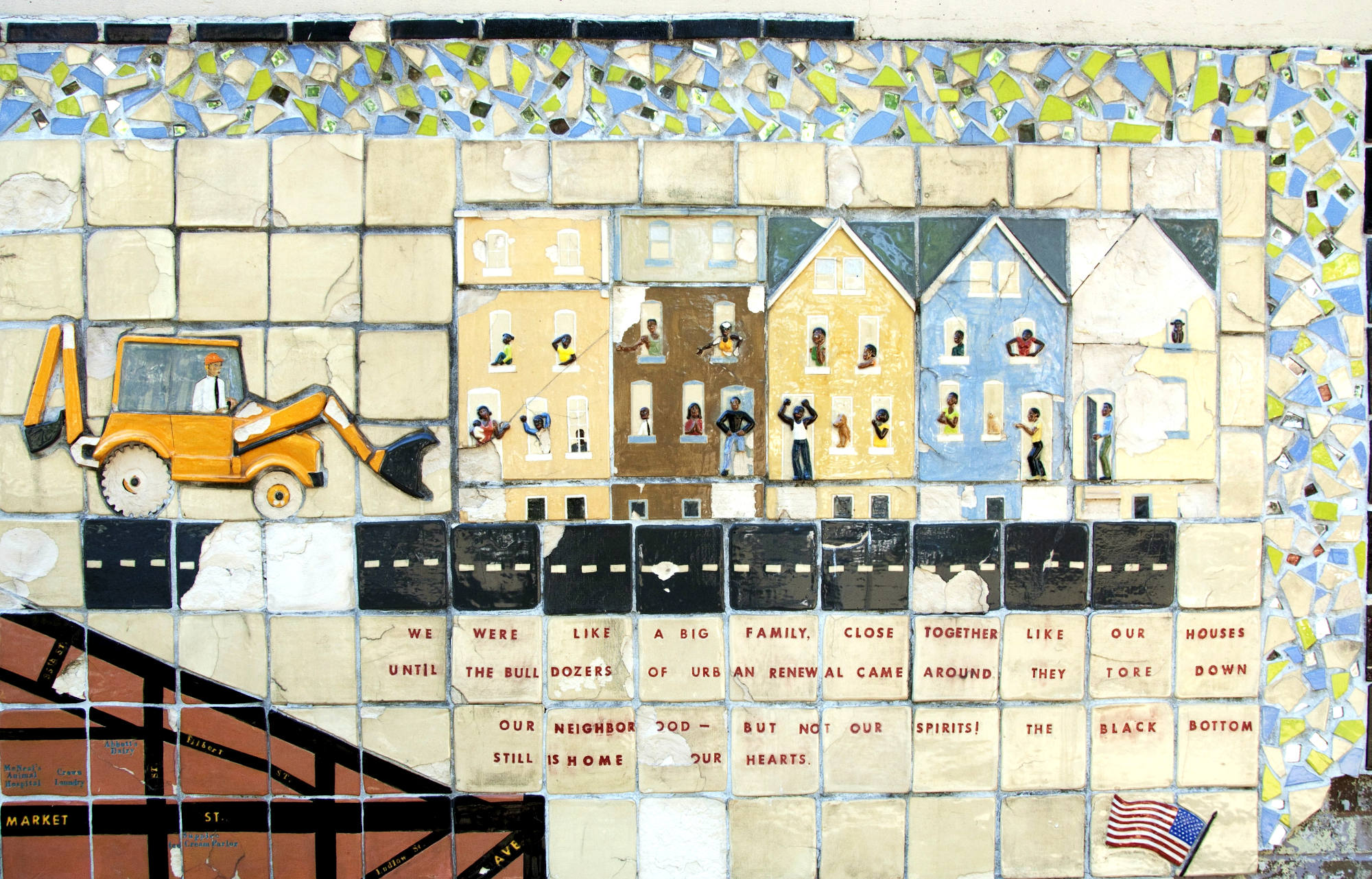 The UC Townhomes is located within the historical boundaries of the Black Bottom, an historically black neighborhood displaced and demolished by Philadelphia's city government through use of eminent domain laws during the 'urban renewal' era in the late 50s and 60s. The number of displaced residents is estimated between 4,496 and 15,000 by various sources, all in order to make way for the creation of "University City."

Below are some resources "University City" was perhaps the earliest functional template for university led gentrification/displacement in what is currently known as the United States. The UC Townhomes sees itself as but the latest fight in a continuous history of struggle against displacement and dispossession dating back to the earliest days of colonization in the region.
Below you will find some resources and history about the Black Bottom and the role of city planners and major universities in displacing low-income and people of color from this area.
Video:
Black Bottom, the Wheel is Come Full Circle by the UC Historical Society Ft. Dr Walter Palmer, Gerald Sid Bolling, Dr John Puckett & Dr Edward Epstein – 1:35:58
Remembering Philly's Black Bottom with Dr. Walter Palmer WHYY by Taylor Allen – 3:53
Web:
Black Bottom collaborative blog documenting gentrification and displacement in many Philadelphia neighborhoods created by many students of Dr Palmer.
Black Bottom Tribe Facebook group which continues to organize a yearly reunion of the Black Bottom, is lobbying for historical place markers within the Black Bottom, is securing a Black Bottom community center and more. "The mission at hand is to reduce racist behavior due and not limited to 'white privilege.'"
Segregation by Design – Page on the Black Bottom shows great aerial photos
Quadripartite Commission:
In 1969, The Black Bottom community, with support from Philadelphia's Black Power movement and University of Pennsylvania student militants, won a historic agreement with the University of Pennsylvania board of trustees Feb 23, 1969, forming the Quadripartite Commission.
In this document, the University of Pennsylvania Board of Trustees approved and agreed to community involvement in all future expansion and construction in University City, a $10m ($76.6m in 2022 USD) financial commitment to low-income housing development in University City and a guarantee that all future University expansion shall include a 1 to 1 replacement housing units that may be displaced. The University of Pennsylvania never followed through on these commitments and they remain unfulfilled to this day.
Archival:
Historical Sample of Philadelphia Inquirer Articles Promoting University City
Oct 16, 1960
Oct 13, 1962
July 19, 1964
July 31, 1977
April 11, 1986