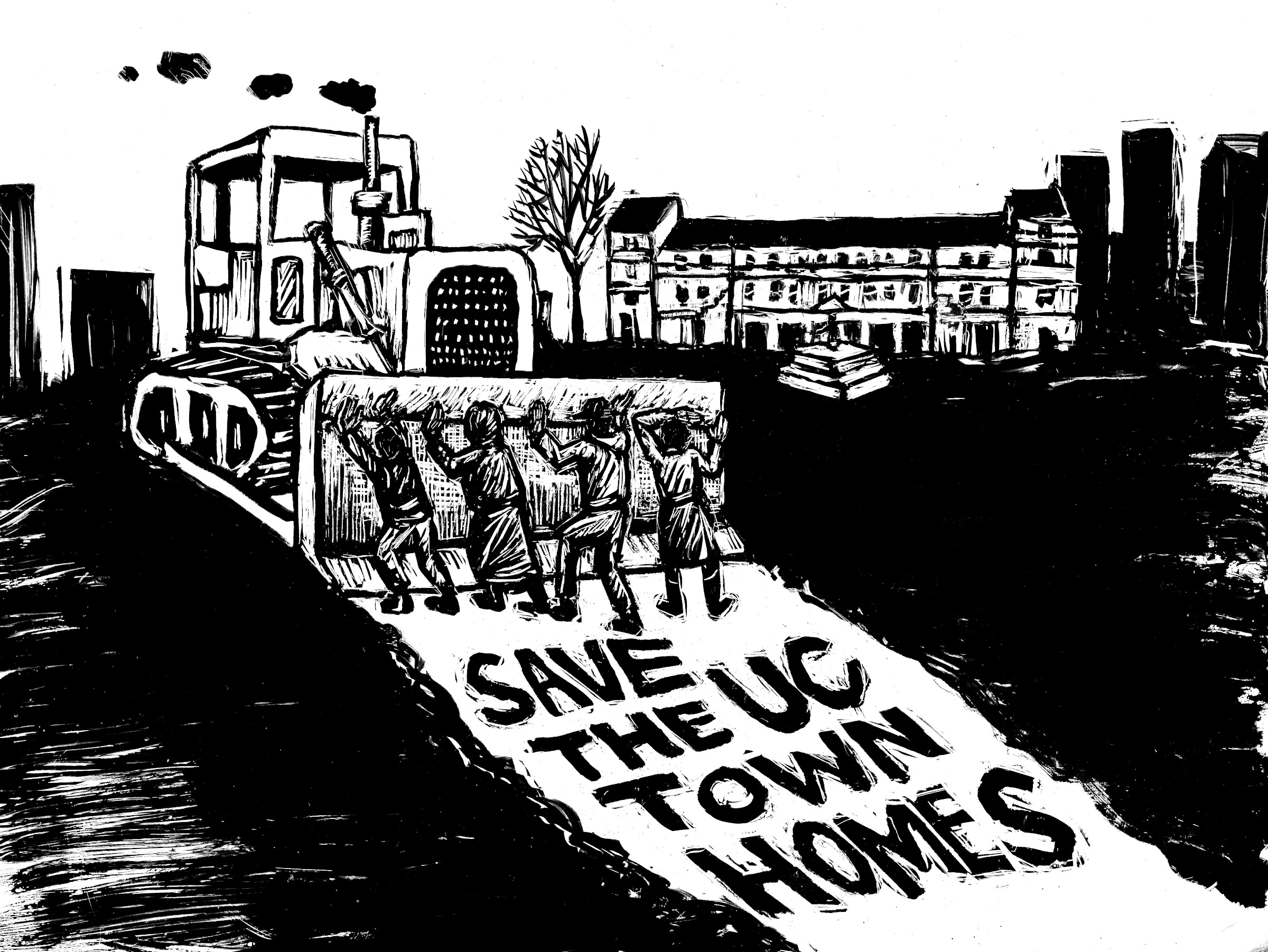 WE DEMAND THAT ALTMAN, THE CITY OF PHILADELPHIA, UNIVERSITY OF PENNSYLVANIA, DREXEL UNIVERSITY AND UNIVERSITY CITY DISTRICT COMMIT TO DEEPLY AFFORDABLE HOUSING FOR LOW-INCOME SENIORS, FAMILIES, AND BLACK RESIDENTS OF WEST PHILLY.
STOP THE DEMOLITION:
We demand an immediate halt to the sale and demolition of the UC Townhomes and that it be made 100% permanently and deeply affordable.
The University City Townhomes (3900-3999 Market St.), owned by Brett Altman, has provided low-income housing to more than 70 families for almost 40 years. Altman has announced a pending sale, mass eviction and demolition of the property this July. Currently in Philadelphia, where 1 in every 4 residents lives in poverty, there is no city-wide plan for preserving low-income housing or constructing new low-income units that the bottom half of our city's residents can afford. There are 1,700 low-income housing units expiring within the next 5 years alone. The city government and neighboring institutions such as UPenn and Drexel have the power, resources and responsibility to preserve this deeply affordable housing stock.
GIVE US MORE TIME:
Residents demand an extension of 2 years if we are indeed being forced to leave.
UC Townhomes residents, some of whom have been living at the complex for more than 30 years, are expected to leave by July 8, 2022. We will not receive housing vouchers from HUD until as late as April. This is not enough time to find replacement housing that will accept vouchers, especially in the midst of the COVID-19 pandemic and with the shortage of low-income housing in the City. Many residents are disabled or have other barriers to finding housing such as poor credit. Vouchers should be issued immediately.
MAKE IMMEDIATE REPAIRS:
We demand that repairs and maintenance be addressed by immediately assigning a maintenance person to the UC Townhomes and meeting with a group of residents to discuss these outstanding issues.
Many residents at UC Townhomes have outstanding repairs to our units that have gone unaddressed for years. Unsafe and unsanitary conditions currently exist in the common areas such as sewage leaks, rats, roaches, uncollected garbage and no snow or ice clearance. There is currently no manager for the complex, nor is there a maintenance employee and the exterminator has stopped coming. Brett Altman is forcing residents to live in unsafe and unsanitary conditions in order to pressure us to leave so he can cash out on land his family bought for $1 in 1982.
PROVIDE JUST COMPENSATION:
We are demanding a $500,000 financial compensation per family, amounting to 35% of the total sale price.
Given the history of the land being twice stolen, once from Indigenous peoples during colonialism, and once from the Black homeowners of the Black Bottom in 1968 through eminent domain, we demand financial compensation for all residents being forced from their homes. Brett Altman's family, having received the land for $1 and benefiting from 40 years of state and federal financial assistance in the form of tax credits and housing subsidies, now stands to sell the same land for up to $100 million, thanks in part to the City of Philadelphia's CMX4 zoning designation as well as deliberate city planning goals made with the University of Pennsylvania, Drexel University and the University City District. This dollar amount reflects the current prices for the most modest housing in University City.
Print Version (PDF 2.4 MB)
Shortened Quartersheet Flyer (PDF 2.3 MB)